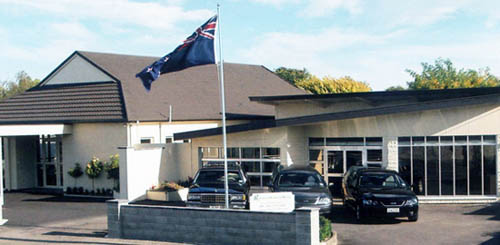 The Richmond Funeral Home
The Richmond Funeral Home situated at 10 Richmond Road, Carterton, is a fully equipped funeral home. Within the Funeral Home complex are offices, arrangement and viewing areas/lounges, mortuary, and monumental display, complimented by the adjacent modern Richmond Chapel and lounge.
The Richmond Chapel
Adjacent to the Funeral Home is the Richmond Chapel which can accommodate comfortably 140/160 people with the ability to open into the foyer area if required to accommodate a larger number of people.
Some of the features of the chapel are:
Modern and Air conditioned
Technology allowing for the playing of photo tributes, recording of services etc
Livestreaming facility
Feature Stained Glass window
Ability to cater for the large or small funeral
The Chapel can be used for any type of service the family may wish, either religious or non religious. Using our Chapel in no way dictates the type of service the family may wish to have. The family can still choose the funeral of their choice.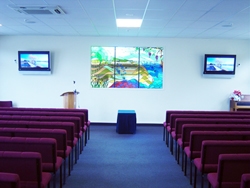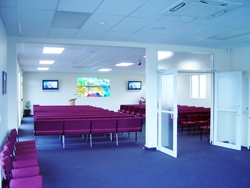 Feature Window
Situated in the front of the Richmond Chapel is a stained glass window depicting the Wairarapa Valley.
The brief given to Barry Sears of Barry Sears Glass was to design an abstract view of the Wairarapa Valley – "something unique and local".
The centre section from the bottom up leads from the deep rugged sea of cook strait into Lake Ferry and Lake Wairarapa with the meandering rivers and the townships of Martinborough, Featherston, Greytown, Carterton and Masterton flanked with ranges and hills as you move up the valley.
Daffodils, windmills, native bush and grapes identify some of the various areas of the Wairarapa and the landmark lighthouses of Cape Palliser and Castlepoint highlight the Wairarapa coast and the Pacific Ocean.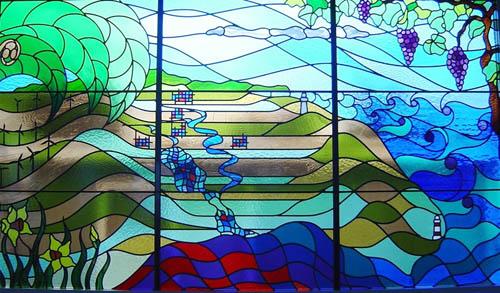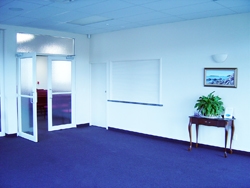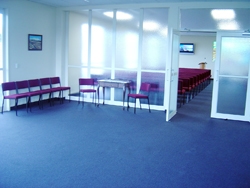 The Richmond Lounge
The foyer of the chapel doubles as an overflow area if required and a catering lounge for refreshments after a funeral. A fully equipped kitchen adjacent to the foyer with a servery allows for refreshments to be served with ease, and doors to an outside area gives an indoor/outdoor area for family to share with friends after a funeral.
Richmond House
The Richmond Funeral Home has an office and viewing facility situated at 2 Fitzherbert Street, Featherston. This allows families in the South Wairarapa to meet in Featherston to arrange the funeral or view and spend time with their loved one. After hours family access for viewing is available and there is also an area for small family farewells/private funerals accommodating 15-20 people. This office is not staffed all the time and attendance is by appointment.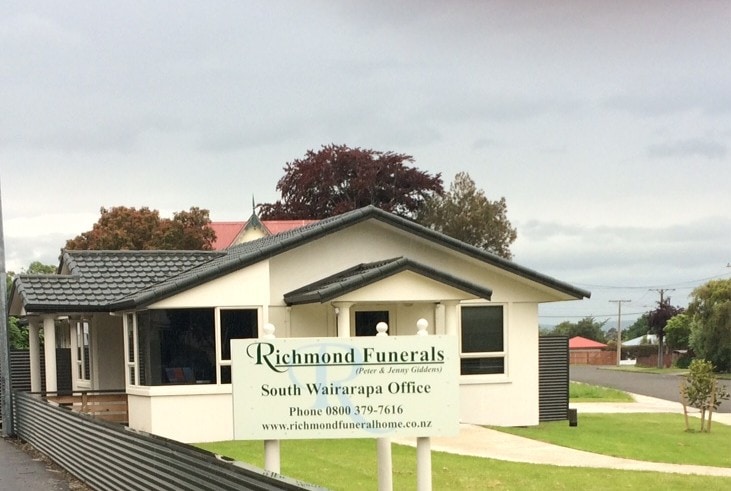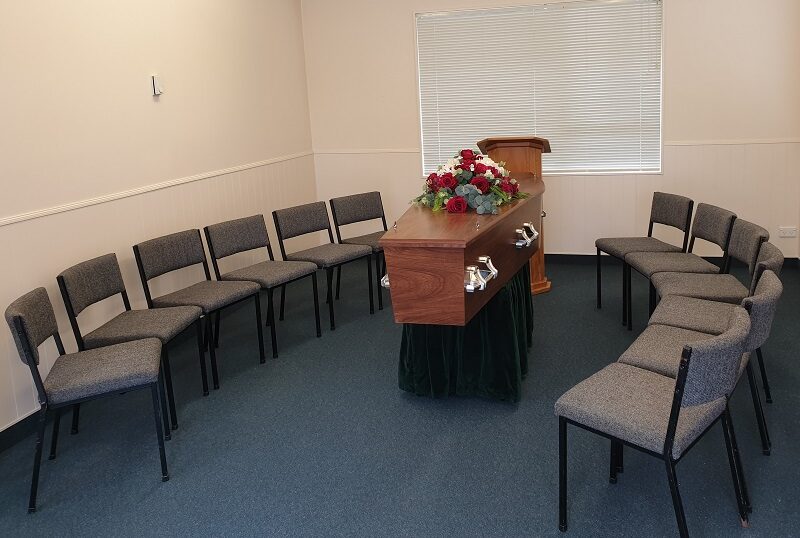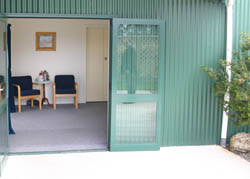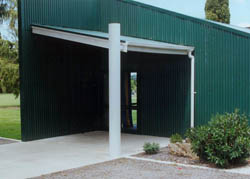 The Clareville Crematorium
The Clareville Crematorium situated at the Clareville Cemetery is a cremation facility owned and operated by the Richmond Funeral Home.  While there is no chapel attached to the crematorium, a small lounge does allow for families who wish to accompany their loved ones to the crematorium, carry into the lounge and to say their final goodbyes.